Related Denture Articles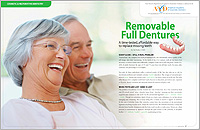 Removable Full Dentures
Complete tooth loss can cause a host of health problems, including malnutrition and bone loss. Though fixed bridgework may hold a higher place of reverence when it comes to replacing an entire set of teeth, removable full dentures can provide an elegant solution that is significantly more affordable… Read Article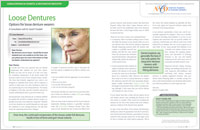 Loose Dentures
Loose dentures are a common problem for people who are full or complete denture wearers, especially if you have worn them for a long time. Whether or not new dentures are needed depends not only upon the condition of your existing dentures, but also how much the supporting tissues have changed… Read Article
Partial Dentures
If you have lost a few teeth in your mouth and would like to replace the missing teeth, partial dentures can help you restore the empty spaces thereby improving your chewing ability and esthetics. It will also act as space maintainer and prevent the teeth from shifting into the arch. Partial dentures can have a metal framework or can be metal free. Ask your dentist about what's the best option for you.
Complete Dentures
Full dentures are made when you are completely edentulous, meaning that you have lost all the teeth in your mouth or you are going to get all your teeth removed. Full dentures can be either immediate dentures or conventional complete dentures.
Immediate dentures means we place the dentures in your mouth the same day of your dental extractions. These immediate dentures would get lose after 3-4 months as your bone remodels and the new bone forms and the shape and size of your jaw bone transforms. The immediate dentures would need to be relined during the 1st 6 months. After your new jaw bone has conformed its shape and is no longer remodeling, a new set of dentures is made.
Implant Retained Dentures
Not satisfied with your current dentures because they are lose? We have a solution for you. We can improve the fit of your dentures by attaching it to the implants in your mouth. Implants are titanium posts or screws that are drilled into your jaw and acts as natural roots. The dentures are then attached to these posts or screws. This attachment of the dentures to the implants prevent any movement of the dentures while you are chewing and therefore improve your chewing ability and help you digest your food better.
Implant Supported Fixed Bridges
If you have lost all your teeth and do not want to get full dentures, we can make implant bridges that are permanently fixed to your jaw bone unlike complete dentures.