Want to know the benefits of Inlays and Onlays?
Related Cosmetic Dentistry Articles
Cosmetic Dentistry – A Time For Change
Join us as we review the myriad of possibilities available to you for cosmetic dental change. But the biggest part is not just how your smile looks, it's how you feel when you show it… Read Article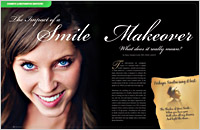 The Impact of a Smile Makeover
Americans are catching on to the emotional and social importance of a healthy, beautiful smile, and they're seeking out ways to improve their smiles. Learn why and what a change could mean for you… Read Article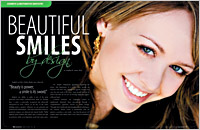 Beautiful Smiles by Design
The first in a series of articles dedicated to the "art and science" of designing a more appealing smile. One of the country's foremost leaders in cosmetic dentistry discusses how you and your dentist partner to create a great new look… Read Article
How And Why Teeth Wear
Are teeth supposed to last for a lifetime? And are humans designed to live for up to a hundred years? Given all the current improvements in the areas of medicine and health, both general and oral, people are not only living longer, but they are also keeping their teeth longer. This article will provide an overview of the "oral system" and one of its more common and important occurrences, tooth wear… Read Article
Inlays or Onlays are partial crowns or custom made filling made in the laboratory. They are more conservative way to restore your teeth without destroying the sound tooth structure. Your dentist may indicate an Inlay Or Onlay depending on how much tooth has been affected by the tooth decay /tooth fracture. Inlays and Onlays can be made of different materials like Porcelain, Composite or Gold. Stop by our office to find out which one is the best for you.
This procedure is done in 2 visits- during the first visit, Dentist removes any old filling/decay from the tooth, he then makes an impression of the tooth to send to the dental lab. he then temporizes your tooth with a temporary filling. The lab takes about 10-14 business day to fabricate your inlay/onlay.
On the 2nd visit, the dentist cements in your final restoration ( inlay/onlay) with the tooth colored cement. he then polishes the tooth to removed any excess cement and check your bite.